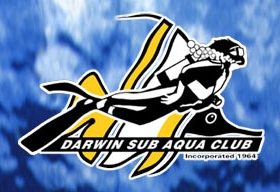 Club Info
The club doesn't do any training see list of instructors below
The Darwin Sub-Aqua club hires no equipment other than scuba cylinders to its members.
Looking to purchase or need to hire some dive equipment or service your existing dive equipment
Contact Archie @ Dive Air
The club has been active in promoting recreational diving in Darwin.
The club has its own facilities, boat and caters for divers that have their own equipment.
Membership
M
embers must have all their own equipment.( you can hire from local dive shop Dive Air )
Potential new members should be aware many of the dive sites are 18m or deeper, should
have dived recently and provide dive cards and log books when submitting their membership forms.
List of instructors below can assist with diver training and offer competitive rates for potential/new members skills
Membership applications accepted most Thursday nights dependant on committee availability ( Prefer direct bank transfer but can accept cash we do not have eftpos facilities) more details are on the membership form located here
All members of Darwin Sub Aqua club become associate members of the
Darwin Ski Club
either via our club or as a family direct with ski club, this allows us to operate from within their grounds. if your not sure please come down and we will assist in this process
The Darwin Sub Aqua Club is a non-profit organisation that meets from 5.30 pm every Thursday night at the Darwin Ski Club for diving talk and social activities. The club facilities are located within the Ski Club 20 Conacher street in Fannie Bay.

Need directions click here for location map
Description

Cost

Diving Membership

financial year is 1st April to 31 March

$ 120.00
DSAC Safety Manual All new members must read before membership is approved.
Club Dive fees
Description

Cost

Minimum of FOUR divers diving in two shifts, with one diver able to operate the boat on each shift. or an additional non diver able to operate the boat( it legal requirement to have at least one person on the boat at all times, quite large fines exist)

Harbour Dive sites

$50.00 + $10 Air or + $20 Nitrox

Lee point Dive sites

$70.00 + $10 Air or + $20 Nitrox

Fenton Patches & Brisbane Dive site

$70.00 + $10 Air or + $20 Nitrox

Club Tank Hire fee

$10.00

Air fills
$10.00
Nitrox fills
$20.00

Dive Discounts towing the boat

-$10.00
ANY ONE interested in any DIVE TRAINING, refresher courses please contact one of the club members/instructors below
Click links below to email one of the diving Instructors call in at the club or give one of them a call
Peter Darlington is a PADI dive instructor and may be able to assist with diver training. ph 0418260855
Carl Davies is PADI dive instructor that may be able to assist with diver training. ph 0405146071

Air banks
You may fill tanks from the air banks at any time provided that you have been instructed on SAFE FILLING PROCEDURES using the club system.
TANKS MUST BE IN TEST PRIOR TO FILLING
The Equipment Officer will ensure the banks are full and compressors maintained.
Compressors
The compressors may only be used on approval from the equipment officer.
The Boat
You do not require a licence to operate a pleasure craft in the NT. All safety equipment and procedures must comply with the Safety Guide for pleasure craft requirements. Additional equipment (such as oxygen, radio, EPIRB, an international A flag and floating line) are to be carried for diver safety.
To contact the club, you can email Darwin Sub-Aqua Club or write to:
Darwin Sub Aqua Club
GPO Box 1461
Darwin NT 0801
Grant on 0427600364